"A fine place to hear yourself think ..."
(from Southwest France, Facaros & Pauls, Cadogan 1998)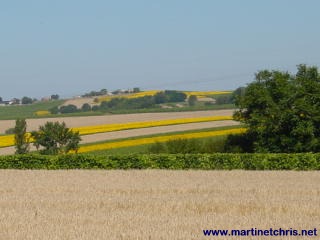 (view from the garden on a Spring evening)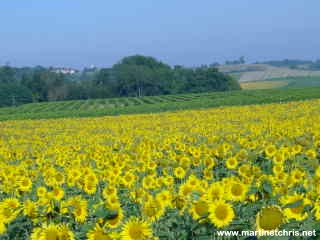 (neighbouring fields of sunflowers)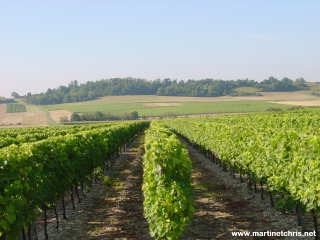 (and the all important vineyards !)
We believe we've got the best of both worlds, in many ways :
| | |
| --- | --- |
| | we're close enough to UK to be easy to get to, but far enough away to be warmer (and not to be in the UK !) |
| | the area is the second sunniest in France, after the Cote d'Azur - but without their prices or crowds ! |
| | we're in the beautiful Charente Maritime ("land & sea : the elements of success"), but we're in the 2 most interesting parts : La Vieille Grange is in the south of it (where the countryside's more interesting/undulating) and within easy striking distance of the Aquitaine/Gironde, including the Medoc; and Les Studios à La Rochelle are in lively and cosmopolitan La Rochelle - the centre of the micro-climate ! |
| | we're easy to get to, both sets of properties are only a short distance from the A10 motorway, and within easy travelling distance (even walking or taxi distance in La Rochelle !) of a number of airports (mainly La Rochelle, Bordeaux and Poitiers) and TGV rail stations (La Rochelle, Angouleme or Bordeaux) |
| | there's loads of interesting places to visit and things to do including sleepy villages and livelier towns (of which La Rochelle has a life all of its own !), beaches, chateaux/wine tasting, nature reserves, fetes and festivals and (for those into them) lots of outside activities including walking, cycling, fishing, golf, horse riding and bird watching - or just sitting outside bars watching the world go by ! |
| | with year round Summer warmth available at a brand new (opened August 2002) indoor tropical lagoon/aqua pool complex at Jonzac, just 20 minutes away from La Vieille Grange |
| | La Vieille Grange is set in a small hamlet of about 12 houses and a farm, in the middle of the countryside (surrounded by vines and sunflowers), but within 10 minutes of the nearest small town (Mirambeau), 10 minutes of the Gironde Estuary, 20 minutes of a larger town (Jonzac) and within 30 minutes of the nearest beach |
| | both Les Studios à La Rochelle are in central La Rochelle, set in quiet residential areas, but within 10 minutes walk of the Old Port and bars and restaurants |
| | for those who like nightlife (gay or otherwise) as well as the country life, there is plenty to be found in La Rochelle or Bordeaux - with smaller scale nightlife available at Saintes, Rochefort, Royan and Niort. |
Our location :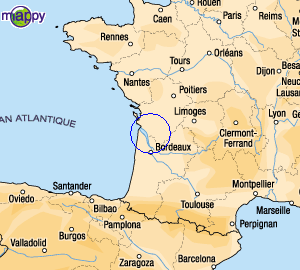 Use the links at the top of the page to see how perfect your holiday location will be : to find out about places to go, events and activities, the weather (including today's !), maps/leaflets/books for planning your holiday and a photo gallery showing the variety and beauty of the area.
A number of tourist boards have web sites for further information about the area (or France in general), but unfortunately many are not well presented :
For France :
For the region of Poitou Charentes :
For the Department of the Charente Maritime :
For the local areas :
But for some of the best websites (e.g. La Rochelle Tourist Office and Royan Tourist Office) - see individual "Places to Go" (above)